Cassandra Kennell, Psy.D., LCP
Cassandra Kennell, Psy.D., was born in Sarasota, Florida and received her B.A. in Psychology from the University of South Florida. She moved to the Shenandoah Valley in 2004 to earn Eastern Mennonite University's Master of Arts degree in Counseling. Dr. Kennell worked as a child and adolescent substance abuse therapist before pursuing her doctorate in psychology. She completed her internship at Philhaven Hospital in Mt. Gretna, PA. Her training experiences included placements at Johns Hopkins Bayview Medical Center, Walter Reed National Military Medical Center, and DeWitt Army Community Hospital.
Dr. Kennell specializes in working with college-age women who have depression or anxiety. She also utilizes cognitive-behavioral therapy and works with clients to address recurring patterns of negative interaction as well as the underlying thoughts and emotions that drive these patterns.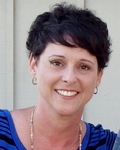 Robin Windsor, M.A., LPC
I enjoy working with a variety of clients, including individuals, couples and families. I have a great affinity for working with clients who are suffering with grief and loss issues. Such losses can of course involve the death of a loved one, but can also involve divorce, job loss or the loss of a dream or ideal. Women's issues are another area in which I work, especially surrounding issues of infertility, miscarriage and stillbirth. As I am licensed by the State of Virginia as a K-12 School Counselor as well as a Licensed Professional Counselor, I have extensive experience in working with adolescents ages 14 to 19 and with young adults ages 20 and above. I help students and families with academic underachievement/difficulties (including ADHD) and college and career choice issues. I also enjoy working with active duty military members, their families and veterans. I have specialized training relating to Military Culture and the invisible wounds some veterans may suffer. Adult Children of Alcoholics is another specialty area. I am a strong proponent of personal choice, power and responsibility. At times we may believe the negative or false messages that we have received from others, either in our past or present relationships. I work with each client to move toward a more positive and realistic reflection of their Self and towards Self-Acceptance. I firmly believe humor is a wonderful gift and tool. I use humor and laughter in my counseling relationships whenever possible and appropriate. I am pleased to associate my practice with Shenandoah Psychological Services as an independent therapist. Call my office today and be seen within 4-5 business days.
Sarah K.H. Campbell, M.S., LPC
I grew up in rural Southwest Virginia before moving to Harrisonburg to attend James Madison University in 2004. I completed my Masters in Rehabilitation Counseling from Virginia Commonwealth University in 2011, but had fallen in love with the city of Harrisonburg and surrounding mountains and moved here permanently, enjoying the community and adventures of the area. I have worked with individuals with developmental disabilities, serious mental illness, children and adolescents with behavioral or emotional issues, teens in foster care, and individuals seeking vocational rehabilitation.
I believe that we all have the ability within ourselves to change our thoughts and behavior, and thus change our circumstances and outlook. I believe that being real, and making a meaningful and empowering connection, is the cornerstone for therapy. I utilize a personalized and integrated approach of Cognitive Behavioral Therapy, Motivational Interviewing, Solution Focused therapy, and Dialectical Behavior Therapy to help foster personal strengths, skills, and abilities.
Ryan Thompson, Psy.D., LCP
I grew up and lived in the Atlanta, GA area until my wife and I moved to Oregon in 2005 to pursue a doctorate in Clinical Psychology at George Fox University. I completed my Doctor of Psychology (Psy.D.) in 2010. Over the past seven years, I have worked in Chattanooga, TN, providing therapy and psychological testing to individuals and families. I moved to Harrisonburg in 2017 to serve as Assistant Professor of Psychology at Eastern Mennonite University. My family and I have quickly grown to love this town and its natural setting. We have always loved hiking and camping, and both are delightfully easy to find here.
I am a certified provider of Parent-Child Interaction Therapy (PCIT) and a certified PCIT trainer for other therapists. PCIT has strong scientific support for strengthening healthy attachment bonds and helping parents develop a consistent and structured discipline system that both they and their children can stick to. PCIT is ideal for children ages 2-7 who are exhibiting oppositional, defiant, impulsive, and/or aggressive behaviors.
In addition to PCIT, I provide individual therapy and psychological testing to children, adolescents and adults for a wide range of concerns. In therapy, I typically work from a mindfulness-based cognitive-behavioral perspective. My goal as a therapist is to help each client develop the skills to be their own therapist.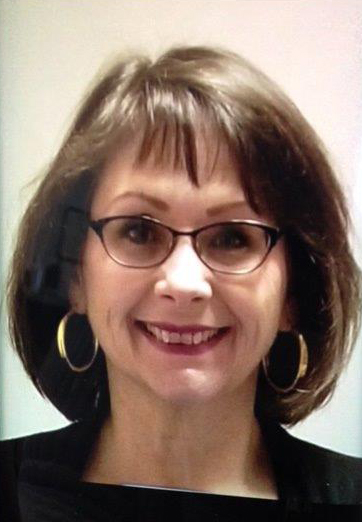 Noel Dianas-Hughes, MSSW, LCSW, C-ASWCM
Noel is a Licensed Clinical Social Worker in the state of Virginia who provides psychological therapies to children, adolescents, adults, and couples. Her primary focus is in the treatment of depression, anxiety, trauma, dual diagnosis, grief, adjustment, and relational problems. Noel received a Master of Science in Social Work Degree (with a specialization in comprehensive health) from the University of Louisville, Raymond A. Kent School of Social Work and a Bachelor of Social Work Degree from Eastern Kentucky University. Additionally, Noel holds certification as a Certified Advanced Social Work Case Manager.
Her background includes clinical work, case management and training in the medical, educational, social service and therapeutic settings. Noel is experienced providing assessment, collaborative, and clinical services to children, adolescents, and adults. She also has experience helping those who have medical challenges including chronic pain, grief, palliative care and adjustment to changes in one's physical and environmental losses. Noel has worked in the field's of medical, mental and behavioral health for over 30 years.
Noel's approach to psychotherapy is one that is described as relational and integrative. Her approach is informed by research on attachment, cognitive-behavioral therapy, interpersonal therapy, and family therapy. In her words, "Psychotherapy provides a corrective and healing therapeutic-relationship. It offers a safe environment for individuals to share and process their experiences as well as develop insights into what is underlying their current challenges. Psychotherapy also provides individuals with coping strategies and skills to tackle life's daily challenges. My role as a clinician is to provide you with this safe and therapeutic relationship, guide you through your exploration and path to growth, as well as offer you the opportunity to learn new skills and improve your functioning in order to enhance your life."
Barbara Jerichen, M.S., LPC
I am a licensed professional counselor who was born and raised in the Shenandoah Valley and am a wife of a truck driver and mother to a middle school son. I have a Master's of Science in Professional Counseling from Grand Canyon University and Bachelor's and Master's from James Madison University in teaching. I have served children in the educational setting in the U.S. and abroad for over 20 years, through teaching, coaching, and counseling.
Using active and reflective listening, I assist individuals to change their thought patterns, re-frame their choices, and create accountability to empower new life choices and direction. I enjoy working with people of all ages using strategies of affirmation, behavioral management, solution focused, motivational interviewing and cognitive behavior therapies. I especially enjoy helping children and helping their parents to better understand and meet the developmental, emotional, and social needs of their children. I strive to assist individuals in building resiliency to work through life's challenges, to remain grounded and persevere in various circumstances through hope and joy.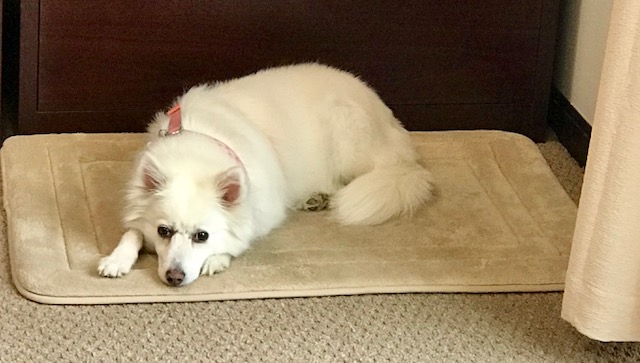 Lagertha "Laggie"
Lagertha is a rescue dog who has completed specialized training. Prior to her rescue, she was kept in a crate for 2 years and used for breeding. She was also abused and has several scars. When she first arrived at Shenandoah Psychological Services, she refused to come out from under the desk – even for food and water! She was given food and water inside her bed, under the desk, until she was ready for applied behavior analysis. After many months of behavior modification training, she can now be seen walking about the office. She will often greet clients, though she is still easily frightened and runs for her "Rug of Safety" as seen in the picture. She has a very sweet temperament. You could give her a steak and take it away without any protest or growling, though she may give a confused, "Why would you do that?" look as she cocks her head and watches you take it. She enjoys being petted and especially adores belly rubs.